I received this email today from Shepherd's Crook and really felt the need to pass this on. You can also see her on Reece's Rainbow. She is beautiful. Please consider being a parent to this young girl and others like her.
Urgent Need: Laurel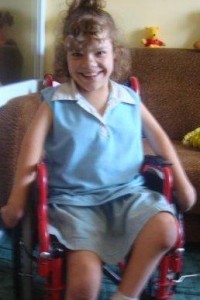 Yesterday we were alerted to the urgent need of a fifteen-year-old girl from Eastern Europe. Her name is Laurel, and she faces life in an adult mental institution if she is not adopted within the next few months. This is despite the fact that she has no mental disabilities; she has arthrogryposis, a condition which affects the joints and results in low muscle strength, but which has no effect on the person's cognitive faculties. When she turns sixteen this summer, she will not be eligible for adoption at all, something which we do not want to see happen. She is said to be a smart and friendly, and she wants very badly to be part of a family. There is a significant grant available for her adoption, and we trust that the Lord will provide—as He always does—the other funds that Laurel's forever family will need in order to adopt her. Immediate action is required, and it is possible to complete an adoption from her home country in a short time, so there is still hope for this young lady.
Unlike the children that we typically plead for, Laurel is not listed on our website. You can find her information by copying this web address into your browser
http://reecesrainbow.org/26309/laurel
which will take you to the website for Reece's Rainbow. They can accept tax-deductible donations for the children on their site, so there is no need for us to do the same. Please join with us in praying for her, that she would be spared life in an institution by being adopted before her sixteenth birthday. There really is no time to waste for her. And, as always, feel free to share this message with others.